Virgin O'Connell
We were big fans of Christian O'Connell at Brand Republic. His breakfast show was by far and away the best morning listen in our humble opinion...
Sadly, no one here has made the switch from Xfm to Virgin Radio. The answer as to why is pretty simple: the music's rubbish and they play too many ads. Pretty sure that's not just us, they really do seem to. Sadly, the Xfm breakfast show is not what it once was with blonde ladette Lauren Laverne who is carved firmly in the Zoe Ball/Sarah Cox mould. Saving grace is Friday's when she hands over the breakfast slot to morning show presenter Shaun Keaveny. Now why didn't Xfm give him the job? Answers on a postcard.
But just in case you were wondering how Christian O'Connell was doing. The answer seems to be very well and to show just how important he is to Virgin, this morning chief executive Fru Hazlitt was up at the crack of dawn serving tea and toast.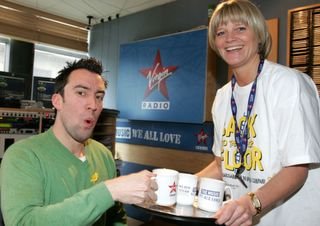 O'Connell seems to have on his best 'oo-err missus' face on. Sadly, for Christian its just a one off in support of Marie Curie Cancer Care's Back to the Shop Floor initiative, sponsored by Persimmon.
March 2006 is the 20th Anniversary of Marie Curie Cancer Care's Great Daffodil Appeal, the charity's flagship annual fundraising appeal, which aims to raise £4m. For more info, visit mariecurie.org.uk.